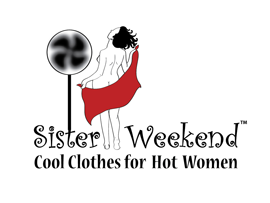 Sister Weekend, LLC did the Manhattan thing on June 18 for the first time.
Selling is great, it's what made us schlep our stuff to the big city.
But what I really love is the personal conversations I get to have with strangers.
I always come away from a festival filled with heartwarming, hilarious and sometimes heart breaking stories that our customers share.
There was the woman with a history of skin cancer dressed undercover in a pretty summer hat, long sleeves shirt and long pants. She loved our chichi shirt because it provides SPF 50 without having to slather on icky sticky suntan lotion.
And then there was the hilarious Amy spending the day with her adorable sister and wild momma. Amy bought our shirt because it doesn't have to be ironed! She loves that when she is partying late on a week night she has can roll out of bed and into the boardroom.
Amy has inspired a new campaign for Sister Weekend, LLC. "The morning after shirt".
There was the hot flash discussion with the Obstetrician/Gynocologist shopping with her husband who hasn't been able to cool her internal inferno of heat with estrogen. Her husband lovingly recalled the tale of the hourly adjusting of the thermostat.
The last conversation of the day was with a young couple who were interested in our shirts for their auntie and grammy. She was a stunning smart and compassionate woman who works with drug addicted homeless people. And her boyfriend was wearing a t-shirt with a beautiful drawing of a curvy women who had hiked up her dress to reveal her enormous beautiful bare ass. I love him for wearing that shirt and loving curvy women. He told me he loved women who "keep it real".
Then there are the conversations I have with the other vendors. I am always inspired when I chat with these talented innovative people who are out there following their dreams.
Oh, and a big shout out to those people who said, I will come by later and buy a shirt…and did- thank you!!!!!!!