About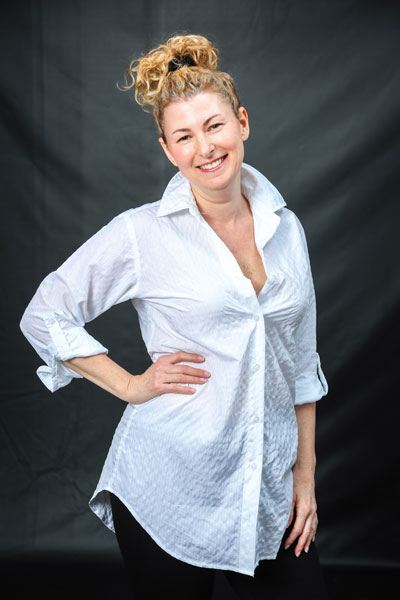 Owner and Founder
Hi, my name is Helene but my family calls me ChiChi, and this is my shirt.
My inspiration for ChiChi's Shirt and Sister Weekend, LLC was born out of a sweaty night of sleep. I would wake up boiling hot, covered in sweat. When the heat passed and my body would cool there I lay in cold wet pajamas glued to my skin. I would get up and feel around for dry clothing in my dark room, change, climb back into bed and pray for sleep. In the morning I would find a pile of wet pajamas on the floor.
Then it occurred to me – Design clothing for women that keeps us cool in soft, comfy and flattering materials. Our fabric is specially designed to pull the moisture away from the skin and dries quickly. This keeps you cool and comfortable anytime you're wearing ChiChi's Shirt; whether in bed, on the run, or just relaxing.
ChiChi's Shirt is a sleep-shirt and so much more!
Hotter than ever…but now a lot more often.
Sister Weekend, LLC – Cool Clothes for Hot Women
The Perfect Gift

Finding the perfect gift for every woman is no sweat. Chichi's Shirt keeps you cool and comfortable. The material is weightless and soft, and won't cling to your skin.

Easy wear, easy care…. Wash and hang, dries quick and doesn't wrinkle. And the material has UPF 50+ providing protection from the sun, so no need for icky sticky suntan lotion. It's also a great travel shirt, and bathing suit cover-up.

This stylish, versatile shirt can be worn wherever, or whenever you want to be cool and comfortable.

Our Mission
And Guarantee

MISSION STATEMENT:

Sister Weekend is built on the principle that each woman has the obligation to strive to be her personal best, and then reach down to lock hands with the next woman to help boost her up. This support will bolster your self worth and encourage another woman to believe in her value. This act will change the world.

We want you to be happy, life is too short to have regrets. Should there ever be a concern please contact us, and our customer service department will be happy to assist you.

Phone: 201-414-7752
Email: [email protected]

So Much More

Put your shirt on with a pair of leggings when you get home and you're ready for the chores of the evening; making dinner, cleaning up, walking the dog, bathing the children, watching TV, sexy time, sleepy time! Wake up and you're already dressed to take the kids to school, pick up a cup of coffee, go food shopping…dressed, comfy, covered, sexy.

The sexy styling of this man-tailored style shirt is sized for women providing modesty and comfort. Look great, feel great!

Pucker Up!

Out of the package your shirt will appear smooth, and then magically it will begin to pucker. This is normal.

The unique puckering is very important and essential to the function of the high-tech features of our fabric. The simple explanation behind how it works is, the puckering pulls moisture away from your skin allowing it to evaporate more readily, keeping you comfortable and dry.
Wedding Day: Before the Dress
We don't mean for you to wear it down the aisle, well you could.
ChiChi's Shirt is perfect to wear while having your hair and makeup done. Why? It buttons down the front so you don't have to lift it over your head when it's time to get into your dress. ChiChi's Shirt will also keep you cool while preparing for your Big Day! Put on ChiChi's Shirt with a pair of leggings, and you have a comfy great looking outfit.
Why not personalize it with a monogram as gifts for your bridal party. You can do so easily in our online shop.