Press
NOVEMBER, 2015 – Sister Weekend, LLC is featured in Wayne Magazine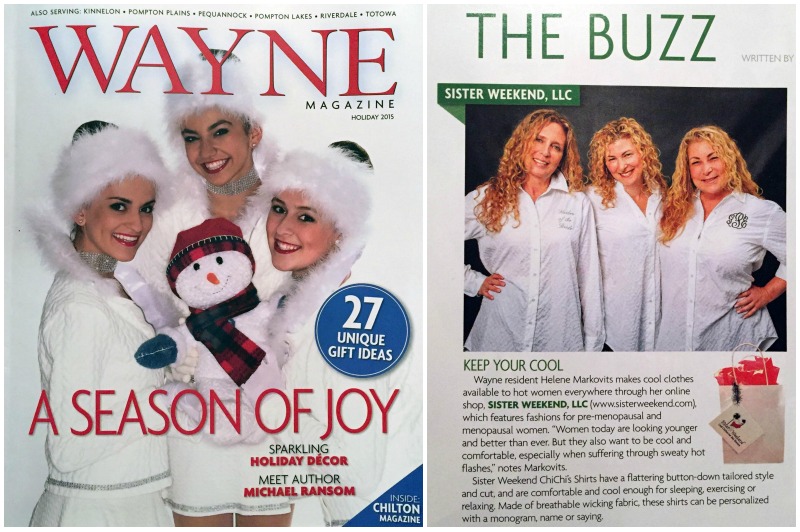 ###
Sister Weekend LLC Saves Women from Night Sweats
Launches New Web Site, Bringing Cool Comfort to Hot Women Everywhere!
FOR IMMEDIATE RELEASE
NEW JERSEY, USA – July 20, 2015 – Sister Weekend, LLC launches a new web site [sisterweekend.com] featuring cool clothes for hot women.
Sister Weekend LLC answers the age old question asked by peri-menopausal and menopausal women everywhere; "Is it hot in here, or is it me?" Yes, you are hot! In more ways than one. Women today in our generation are looking younger, hotter, and sexier than ever. But they also want to be cool and comfortable, especially when suffering through sweaty nights brought on by hot flashes.
Sister Weekend LLC, and ChiChi's Shirt was founded by Entrepreneur Helene Markovits. The idea was born from a sweaty, sleepless night (not the kind we want!). Like many women in our generation, Helene would wake up boiling hot, covered in sweat. When the heat passed, her body would cool, leaving her laying there in cold wet pajamas glued to her skin. She would get up and feel around for dry clothing in the dark room, change, climb back into bed and pray for sleep. In the morning there would be a pile of wet pajamas on the floor. This routine was not fun!
Here was a problem, and Helene thought of a solution: Design clothing for women that keeps us cool in soft, comfy and flattering materials. Herein, Sister Weekend, and ChiChi's Shirt were born!
Sister Weekend's solution is ChiChi's Shirt! A shirt that is made of a soft and comfortable fabric. The unique puckered appearance of the fabric increases the surface area which pulls the moisture away from your skin and into the material which dries quickly. This keeps you cool and comfortable anytime you're wearing your ChiChi's Shirt; whether in bed, on the run, or just relaxing.
ChiChi's Shirt is styled like a man-tailored button-down shirt. The cut is super sexy, yet comfortable. Just like putting on your man's shirt after sexy time. Roll-up sleeves button at the elbow to create a 3/4 sleeve when needed. ChiChi's Shirt is versatile enough to wear with leggings, shorts, jeans, or nothing else at all! Roomy enough for comfort but contoured enough to imply your gorgeous curves. A unique blend of sexy and comfort – What more can you ask for?
You can purchase ChiChi's Shirt in a variety of sizes and colors. You can also personalize the shirt with a monogram, nickname, or short saying. ChiChi's Shirt makes the perfect gift for yourself, or any other *hot* women in your life!
A sleep-shirt and so much more…This is not your mother's muumuu, it's the new muu!
Hotter than ever…but now a lot more often.
Sister Weekend, LLC.: Cool Clothes for Hot Women
For more information, please visit https://sisterweekend.com, or contact us at [email protected], or call (201) 414-7752.
###
muumuu, clothes for menopausal women, helene markovits, sleepwear, cool pajamas, sleep shirt, menopause, cool clothes, sweat wicking, moisture absorbing, wedding day shirt, custom wedding day gifts, women's clothing online, moisture absorbing clothes, clothes for night sweats, hot flashes, cool pajamas, sexy pajamas, swety nights, cool pajamas